| | |
| --- | --- |
| Availability: | Out of stock |
| Delivery time: | August 20th |
Features RAR chair off white
Reproduction of design rocking chair
Seat in high quality ABS plastic
According to original design by Charles Eames
Legs of chair made of metal frame with wooden gliders
Color: White (multiple options)
Warranty
Like all our products this rocking chair has a two year warranty.
Color
Available in 2 shades of white. These are:
Off White (#02) - Pantone color code PMS 7527u
If you select a color option in the menu up top, you will see the product image will change to the chair of your color of choice. Check out the complete Pantone color table here. The RAR is available in 35 colors.
About the off white Eames RAR chair
This design chair designed by a world famous furniture designer has for decades one of the most stylish rocking chairs out there to buy. The luxury seat of high quality ABS plastic and the beautiful slim chassis are very popular for years by their modern but also timeless look that come into their own in many interiors.
Specifications RAR White
| Specification | Value | Explanation |
| --- | --- | --- |
| Seat height | 40 cm | Floor to top of middle of horizontal plane (min/max) |
| Seat width | 36 - 44 cm | Maximal width of seat (min/max) |
| Seat depth | 44 cm | Depth of the seat |
| Total width | 63 cm | Total width of the chair |
| Back height | 67 cm | Floor to top of backrest (min/max) |
| Height armrest | 59 cm | Floor to top of armrest (min/max) |
| Seat material | ABS | The material the plastic seat is made of |
| Frame material | Metal frame with wooden gliders | Materials used in the legs and undercarriage of the chair |
Assembly instruction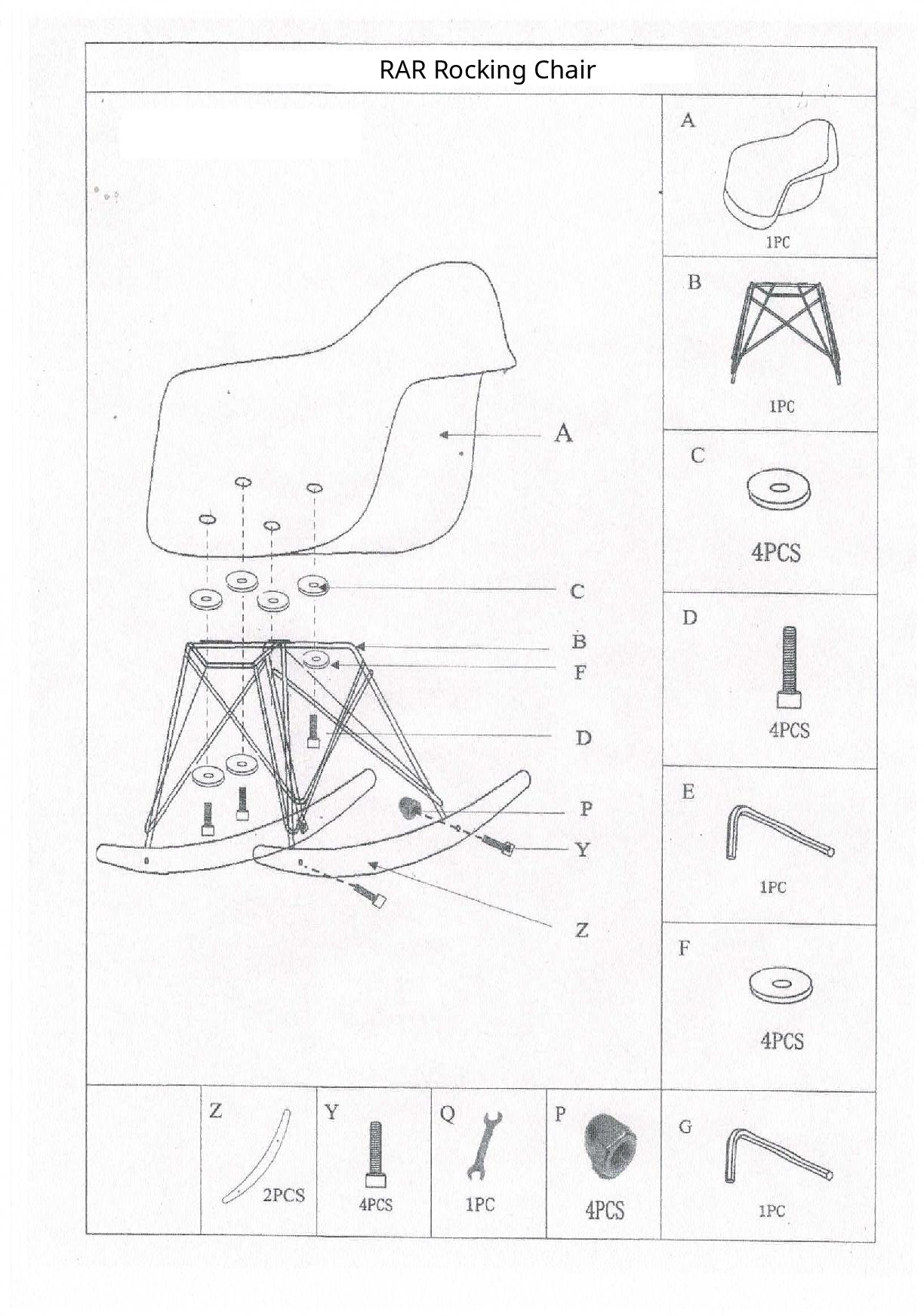 Reviews of this product
The RAR rocking chair in the color white has been purchased by many of our happy customers. It fits in with almost every interior design style. Add your own review under the Reviews tab.
Ordering the RAR Eames White?
Scroll to the top of this page
Pick the right color white
Select the quantity you want to order
Click "ADD TO CART"
Fill in your details and complete your payment
U will receive a confirmation and Track & Trace by email
Within a few days your products will be delivered
You can now enjoy your new designer chair(s)
| Sandra
08-05-2018 10:26
Alles is zeker naar wens verlopen en wij zijn erg blij met de stoel!
| Marjolein Duivenvoorden
12-03-2018 15:04
Goed! Enige is dat ik geen track en trace nummer heb gekregen.
| Sanne
23-10-2017 11:34
Hele mooie stoel, wij zijn er blij mee!
| Melenie
02-08-2017 13:55
Mooie fijne stoel, alleen jammer dat er bij levering 4 van de 8 schroeven miste. En we niet meteen de stoel konden monteren. Bezorging was snel, binnen een paar dagen hadden wij de stoel in huis!
| Jolanda
01-12-2015 13:15
Cadeau gedaan aan vriendin die hoogzwanger is. Of straks te voeden er handig. En kleed ook leuk aan, de kamer.
| Rebeca Shudufsky, Eindhoven
04-12-2014 10:52
Zowel de levering als het product zijn prima.
| M. Hovestadt , Vleuten
29-09-2014 09:48
Dit is naar wens verlopen.
| Tijn Lansberg, Tienhoven (Utrecht)
23-09-2014 13:09
De stoel is heerlijk en geheel naar verwachting. De levering was snel en ook prima. Dus we zijn tevreden.
| Iris Sitaling, Zaandam
23-09-2014 13:09
De levering was zeer vlot en we zijn heel erg tevreden. Zo tevreden dat we er heel snel nog 3 gaan bestellen.
| Niels Nouwens, s-Hertogenbosch
23-09-2014 13:09
De bestelling is naar wens verlopen. Dank daarvoor.
| Marsha Velman, Rotterdam (Zuid-Holland)
23-09-2014 13:09
We zijn zeer tevreden over de snelle levering en erg blij met de stoel.
| S. de Luik, Tilburg
23-09-2014 13:09
Wij zijn erg tevreden met de stoel, hij is wel wat aan de lage kant wat ons betreft, Maar hij zit prima.
| J. Dimel, Utrecht
23-09-2014 13:09
Na een wat uitgestelde levering, zijn wij nu erg tevreden met onze bestelling. De stoel is in goede staat overgekomen en vinden hem prachtig!
| Kim Kamer, Spijkenisse
23-09-2014 13:09
Over het contact met DesignSeats ben ik zeer tevreden, goed geholpen.
| D. Passen, Zedelgem (Vlaanderen)
23-09-2014 13:09
Uiteindelijk is alles naar wens verlopen.
| Stephani van Ekhout, Amersfoort
23-09-2014 13:09
De levering was helaas later dan verwacht. Voor de rest ben ik tevreden over de schommelstoel die ik had besteld.
| Camile Ebenhard, Alphen aan de Rijn
23-09-2014 13:09
De stoel bevalt ons prima! Zit heel lekker en wij zijn helemaal blij mee.
Bedankt!
| R. Meertens, Maastricht
23-09-2014 13:09
Wij zijn dik tevreden. Toen levering eenmaal duidelijk was ging alles super!
| Chantal Dozi, Almere (Flevoland)
23-09-2014 13:09
Goede service! De stoel was eenvoudig in elkaar te zetten en bevalt verder prima!
4.35
stars based on
19
reviews